Anke Schuhardt

, the cool "press fairy" of

Herznote Publishing

talks to us about fashion, social media and of course the team's latest inspiring project entitled

"CIRCUS"

that focuses in the fashion industry and is implemented with the contribution of bloggers from around the world. Creativity and challenges are Anke's forte – so let's hear her out:
Hello Anke and welcome to EyeCandies! Give us a brief description of your background and your interests.
Hello Aphrodite! Well, I'm from Darmstadt, a city close to Frankfurt in Germany. It's my hometown and I will finish studying Online Journalism this summer. We founded Herznote Publishing a year ago. However, we had other journalistic projects before, so we already had lots of experience. When I'm not working I like to do pretty normal stuff: reading books and magazines, listening to music, going to concerts, watching series and meeting friends. However, I also like stuff that is not that normal – I love piercings and tattoos, corsets and everything that's red and pink – like my hair.
---
Tell us about the concept of CIRCUS – the first blogger bookazine published by Herznote and your contribution in the making of.

CIRCUS is the first of it's kind, it's the perfect symbiosis of a book and a magazine: a high-quality product with lasting content presented in an appropriate layout. The bookazine's timeless quality fulfils the requirements for a sustainable publishing work. It is a statement against escalating waste-paper production on the media market, you won't throw away, you just have to read it again and again.

I'm Advertising and Marketing Director of CIRCUS, that means I am responsible for sponsoring, ads, collaborations etc. But in general you can say that we've all been involved in all the processes while producing the bookazine. I contributed to the concept, I was in contact with authors, I read articles, just like all the others.

The first issue is about Fashion. Can you give us a sneak peak of what one can find in the book and what makes it special?

It was very important for all of us that we show the fashion industry from a new perspective. We've all been reading fashion blogs for a long time, but we didn't want to produce another exchangeable fashion magazine. We decided to let international fashion bloggers do what they can do best: write about fashion. But nothing is just re-printed, everything is exclusively written or produced for CIRCUS.

You won't find shopping tips or what's in and out. Instead you can read background articles about the fashion industry, for example about a man with a wool fetish, a blind woman with a great sense of style, interviews with models who don't consider their selves as models and so much more. Every article is written in the authors mother tongue and translated into English or German.

---
What are your views on online social media?

Honestly, I can't remember how I lived before online social media. I'm an addict; I'm online almost 24 hours a day. I love to read blogs, to discover pictures on tumblr, find interesting stories or just to chat with friends on facebook. It's great to stay in contact with people from all over the world that easily. Without the online social media CIRCUS wouldn't have been possible. Almost all contributors are bloggers and we just need these social media tools to work with them, it's great that it's you can simply talk to an author from South Africa, from Greece or the US with skype. However, it also means that you don't have a 9 to 5 work structure any more. To me this means more motivation though. When you're really into your job, or in our case your own company, you don't care about regular working hours and you will work longer than 9 to 5 anyway. I'm not annoyed when a blogger sends me an e-mail or starts a skype conversation when it's late in the evening – I think it's great that you can always be in contact with each other.

---
Where do you seek for inspiration in your daily life and what is your favorite part of the city you live in?
I seek for inspiration in my daily life especially when I travel. I spent New Years Eve in Dublin and I loved to walk around the city and to explore it my own way, without a map or a tourist guide. I always take too many pictures, particularly of street art and things you would hardly notice. And of course I seek for inspiration online, I have hundreds of blogs in my feed reader and I love tumblr, I blog and re-blog pictures a few times a day. And there's so much inspiration on websites like we heart it or fffound.
What I like about my hometown: I enjoy going for a stroll in the forest next to my house and of course I love the secret lake, a lake more or less only the CIRCUS staff knows. It's so peaceful when no one's there – I can't wait until it gets warmer. :)
Use a link that expresses your current mood (image, video, anything)
---
I love the colourful doors in Dublin and at the moment I wish I'd be there.
Share your fav top five blogs
That is so hard to decide! I have favourite blogs in different areas, like fashion, music, tattoos&piercings, veganism etc. But I try to name a few:
Funny, interesting and smart articles not only about fashion: Bangs and a Bun
http://bangsandabun.com/
To keep yourself informed about the fashion industry (german): Les Mads
http://www.lesmads.de/
About everything – news, music, love … even about topics you would never have thought of. I especially love "I did it for Science":
http://www.nerve.com/
Secrets from people all over the world, hilarious and sometimes sad too:
http://www.postsecret.com/
Vegan cooking, best recipes ever (german):
http://www.veganguerilla.de/
P.S.:

CIRCUS Bookazine

will be hosted on this Sunday's Giveaway (23/01)! So make sure to drop by & enter. Herznote will be also offering a discount for EyeCandies readers. Stay tuned!
Powered by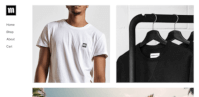 Create your own unique website with customizable templates.