It was so exciting browsing through Oliver Rath's portfolio. You can clearly see a creative spirit who seeks to depict energy and power through his images.

Viewing the work of

Kerstin zu Pan

is like entering a fresh,

fantastic

world where

surrealism

, glam and beauty are dominant and

dreamy

visuals draw you in a

playful

and imaginative trip! The photos presented here are part of her

"Paper" Fine Art project

.
Check out her official site for an overview of her projects and a wide collection of her photography!
The photographer lives and creates in Berlin.
The work of photographer

Yulia Gorbachenko

is pure pleasure to the eyes and I believe that her statement sums it up beautifully: "Color, flare, rainbow and beauty are my addiction. My heart serves as guide – it never fails. My inspiration is unpredictable but its beauty precise. I see it, touch it, feel it, smell it; I find it everywhere. My creed is that you are as good as your last picture."
Indeed, there is an

exciting energy

in all of Gorbachenko's projects and it is obvious that she seeks

experimentation

and evolution in her field. Make sure to check out her entire gallery!
---


Fresh,

pop

and full of

innovative

energy, the works of photographer

Zoren Gold

and graphic artist

Minori Murakami

challenge your imagination by providing breathtaking visuals and creating a whole new

fantasy

world!
The creative duo

Mi-Zo

combine various techniques such as illustration, graphics and of course photography. Enjoy!
---
Undoubtedly cool and

fresh

visuals by

Natasha Ygel

, a young restless photographer who is also interested in audiovisual and experimental activities.
"Her exquisite taste for arts, her innovative skills coupled with her mundane perspective could only enhance the human eye of the photographer which she reveals in her pictures, creating the perfect cozy, comfortable conditions to achive the desired image. Stylish realities are crystallized with hints of irony, light and darkness all together. Her characters are casted to suit outlandish and ludic, though heart-warming situations."
---
Photographer

Robert Jaso

sets

high standards

for

glam

photography! His work is highly inspirational and captures the essence of

beauty

and

style

.

Striking visuals with a

powerful

interpretation of color and texture.
---
Discovering

Brian Walker's

work was a real treat! The

magnitude

of this photographer's talent goes without saying! His visuals

got me lost for words

.

I'm

quoting

from his site: "Brian Walker is a contemporary digital artist whose images explore and exploit the realm between fantasy and reality, recreating scenes that meld illustration and fashion with an element of surprise. Stemming from a passion for illustration to depict his ideas and concepts of surrealist landscapes and characters, Walker first began using photography as a tool to represent these ideas of the impossible within the believable context of photography.
From early on Walker has been influenced by surrealist artists such as Dali and Magritte. Today he is influenced by the evolution of fashion and popular culture such as film, magazines and the internet. His recent works take inspiration from the plasticization of the female form in fashion and online virtual dress up dolls. Walker aims to perplex his audience, his style guaranteeing an element of surprise intended to delight and amuse his viewers."
---



Bold and

stylized

depictions of

alternative

characters by

Nicolle Clemetson,

a Phoenix based photographer!
Glam at its best!
---
---
Powered by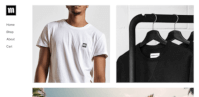 Create your own unique website with customizable templates.