Hauntingly inspiring
, the images of talented
Noa Griffel
are impossible to be unnoticed. Having received her BFA in photography at the young age of 17 she continued for her master in the School of Visual Arts.
Fredrik Ödman's

project

"Composed Animals"

is a truly

imaginative

and wonderful example of combining dream and reality!
The photographer's site is a work of art itself so make sure to check it out and browse through his

inspiring portfolio

. Your enchantment is guaranteed!
Viewing the work of

Kerstin zu Pan

is like entering a fresh,

fantastic

world where

surrealism

, glam and beauty are dominant and

dreamy

visuals draw you in a

playful

and imaginative trip! The photos presented here are part of her

"Paper" Fine Art project

.
Check out her official site for an overview of her projects and a wide collection of her photography!
The photographer lives and creates in Berlin.
"Pet Cloud"

has gained wide recognition in the online inspiration blogs and there is no mystery why!

Playful

, original and so fresh,

Michael Casker

inspires us with his

imaginative

and

dreamy

visuals.
The photographer has attended Brooks Institute of Photography and currently lives and creates in New York.
The

"Wonderland"

(2005) project by

Yeondoo Jung

is so

creative

and

inspirational

that makes you want to scream out in awe!! I've always had a thing with watching a child draw. It felt like I was exposed to

raw

creativity, without boundaries.
With "Wonderland", the artist

transforms

children drawings into photographs in an attempt to

explore the fantastic worlds

created by their young and

vivid

imagination! Pure visual pleasure!
Yeondoo Jung lives and creates in Seoul, Korea.
Ethereal,

poetic

, sensual … there are truly

not enough words

to describe Brooke Shaden's photography that travels the viewer into mysterious realms.

I quote from the artist's statement:

"

My photographs are meant to be read and analyzed. Symbolism is abundant in them, for what makes an intricate story if not visuals that mean one thing but stand for another? I explore death and surrealism through my photography in order to show that reality has intricate ties with fantasy. Our world is not so different than the disturbing worlds I create within my frames. I argue that my surrealistic images are even more representational of life because they contain feelings and emotions that resonate with the viewers. Sometimes life does not have to be photographed according to reality; instead, why not explore the depths of the mind and soul and reach for something deeper than the reality that plagues us and traps us daily? My edited photographs are a far cry from the original image that comes out of the camera. I add texture to them to give a feeling of grime and age, thus giving the photographs a timeless feeling. I often play with the tones so that the subject is highlighted and the scenery falls away in to slight desaturation and abandonment. The real crux of my photography is portraiture; it is capturing the emotion of a single instance in a life. Certainly they are all staged and planned and scrutinized over, but they all hold some sort of dramatized emotion (a real emotion, almost unbearable to feel) that resonates with the viewer."
---
---
Powered by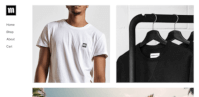 Create your own unique website with customizable templates.