Hauntingly inspiring
, the images of talented
Noa Griffel
are impossible to be unnoticed. Having received her BFA in photography at the young age of 17 she continued for her master in the School of Visual Arts.
There is a
dark and dreamy
essence in
Athena Katsoulieri's
most recent photo projects. Each image, like a word that somehow escaped from a poem. Landscapes captured from a dreamer's point of view, with slightly distorted colors and unusual perspectives.
It was so exciting browsing through Oliver Rath's portfolio. You can clearly see a creative spirit who seeks to depict energy and power through his images.

I discovered

Black X List Photography

just today and I was fascinated with the

High Peak College urban exploration!

A very large abandoned site where the current dark and trashed spaces used to be livable and full with young people. The

controversy

between the past and present makes this project even more interesting and conceptual, along with the sharp eye of the photographer who captures these images, giving them a dreamy, nostalgic essence. Furthermore, the crisp depiction of textures and playful light effects are a

pure visual pleasure!
An amazing

dark

collection of

conceptual

and surreal imagery by talented

Andreea Anghel

who notes:

"The whole theme of my work is based on the human condition and degradation...from sins to problems or simply human nature. I've started to create them when I was 16 and I hope to keep exploring these depths. To me, they represent not only a message to my viewers, but also an attempt at trying to see beauty in imperfection."

The inspiring work of Andreea has won various

awards

and distinctions and has been featured in

numerous

media.
---
Ethereal,

poetic

, sensual … there are truly

not enough words

to describe Brooke Shaden's photography that travels the viewer into mysterious realms.

I quote from the artist's statement:

"

My photographs are meant to be read and analyzed. Symbolism is abundant in them, for what makes an intricate story if not visuals that mean one thing but stand for another? I explore death and surrealism through my photography in order to show that reality has intricate ties with fantasy. Our world is not so different than the disturbing worlds I create within my frames. I argue that my surrealistic images are even more representational of life because they contain feelings and emotions that resonate with the viewers. Sometimes life does not have to be photographed according to reality; instead, why not explore the depths of the mind and soul and reach for something deeper than the reality that plagues us and traps us daily? My edited photographs are a far cry from the original image that comes out of the camera. I add texture to them to give a feeling of grime and age, thus giving the photographs a timeless feeling. I often play with the tones so that the subject is highlighted and the scenery falls away in to slight desaturation and abandonment. The real crux of my photography is portraiture; it is capturing the emotion of a single instance in a life. Certainly they are all staged and planned and scrutinized over, but they all hold some sort of dramatized emotion (a real emotion, almost unbearable to feel) that resonates with the viewer."
---
---
Powered by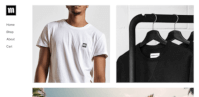 Create your own unique website with customizable templates.