I was very happy to receive
Joseph's
email some time ago.
He communicated with me in order to give me his positive feedback on the blog and also share the work of 2 artists.
Thank God
he included his own
link
in his signature as well – I must admit that I am completely
enamored
of his work! Conceptual & original but most importantly
expressive
and emotive.
Joseph Newsome
is still very young yet the images he captures through his lens have an
unexpected maturity
.
---
"Pet Cloud"

has gained wide recognition in the online inspiration blogs and there is no mystery why!

Playful

, original and so fresh,

Michael Casker

inspires us with his

imaginative

and

dreamy

visuals.
The photographer has attended Brooks Institute of Photography and currently lives and creates in New York.
I discovered

Black X List Photography

just today and I was fascinated with the

High Peak College urban exploration!

A very large abandoned site where the current dark and trashed spaces used to be livable and full with young people. The

controversy

between the past and present makes this project even more interesting and conceptual, along with the sharp eye of the photographer who captures these images, giving them a dreamy, nostalgic essence. Furthermore, the crisp depiction of textures and playful light effects are a

pure visual pleasure!
Lost America

is the name of

Troy Paiva's

photographic project in which he has explored and captured the

abandoned urban

side of America by the light of full

moon

.
His lighting techniques are simply

amazing

and the

atmosphere

of his work makes me search for words! As I read in his site: "
In addition to countless contributory appearances in print and on the web, Troy's surrealist night photography has been published in two monographs: "Lost America" in 2003 and the award winning "Night Vision" in 2008. Both books examine the evolution and eventual abandonment of the communities, structures and social iconography spawned during 20th century America's western expansion--and the modern Urban Exploration culture that finds strange comfort in dancing through its ruins."
---
Kyle Spears

is a fine art photographer with a growing interest in

urban

shots. An inspiring balance between deep

tones

and lighting is apparent in his

cityscapes

.

From my point of view, his collection reflects a somehow dramatic and

intense

atmosphere and thus, an interesting

visual communication

takes place.
In

Argijale's photography

one can very clearly distinguish the artist's attempt to experiment with

space

and

movement

. Open space plays a vital role in his frames. His subjects often appear blurred or distorted.

As a viewer, I see the photographer "flirting" with various

existential

and philosophic ideas which he strives to capture through his lens. An

intriguing

visual collection should always carry a concept and this is why I like Argijale's work in the first place!

Take a look at his full collection on

flickr

.
Recognized as one of the most talented artists in the field of humanist photography, Willy Ronis is known by his ability to convey waves of nostalgia for the urban community of 40's and 50's through his black and white images.
" Dividing my time between assignments and playing truant by image-hunting was difficult, but in the last account it protected me from routine, and I have experienced by turns periods of anguish and moments of extraordinary happiness. Je ne regrette rien" [as quoted by the artist]
---
Powered by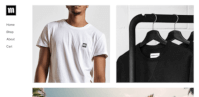 Create your own unique website with customizable templates.